Custom Homes Conforming to Each Location
Through the well-considered use of space in combination with nature, timeless elements of tropical architecture are employed in creating villas and pavilions of impeccable elegance and style.
Because nature needs no embellishment the essential beauty of the tropical world is best reflected by quiet design. Living spaces should be simple, open and inviting. Free of confining walls, within a Villa individual living areas meld with the surrounding tropical world…open, spacious and elegant.
Whether open completely to the natural surroundings or cooled by air conditioning when needed, the Villas of Cielo Santo feature comforts and amenities for a discriminating lifestyle.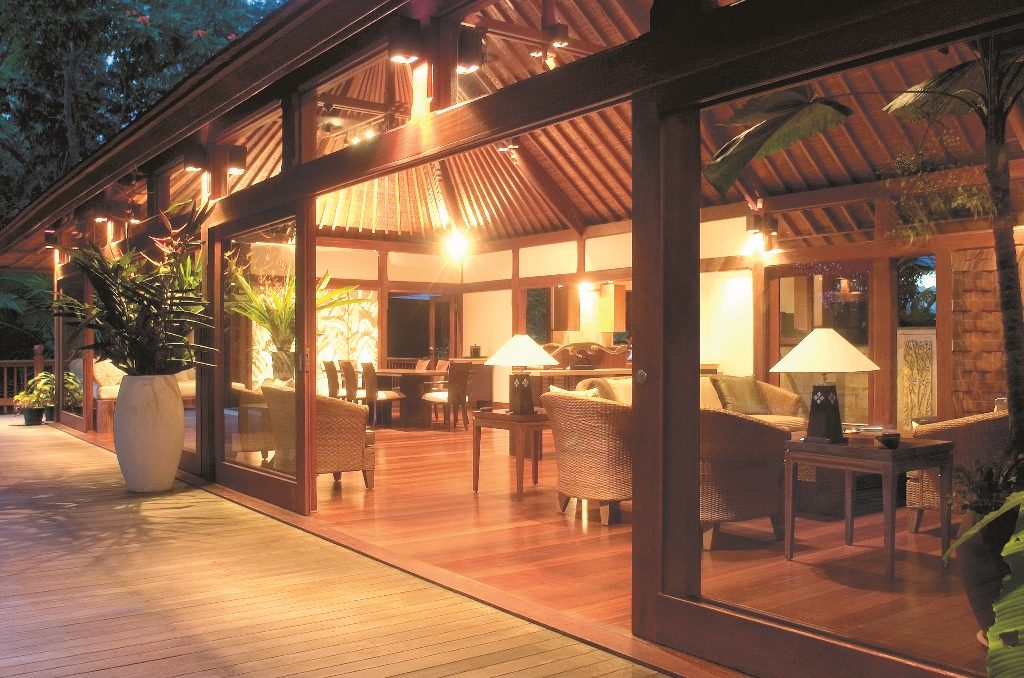 Designs delivering tranquil simplicity feature open living areas that are accessible yet completely private.
Villas designed by multi-award-winning Balinese architect Ketut Arthana are pre-assembled in Indonesia by local craftsmen and packaged for shipment to tropical locations worldwide. Structures of sustainable tropical hardwoods, custom furnishings, works of stone, carvings and cabinetry are custom made to suit every villa and every owner's lifestyle.
Comments on architecture by Ketut Arthana:
"Architecture is actually an element of nature….it is found everywhere, reflected in the living beauty that surrounds us. Like an enchanting woman… visible, yet elusive. Villas for living should be designed as a celebration – an integration – of beauty, comfort and the vital elements of nature."
Through the judicious yet generous use of open space, balanced to achieve accessibility and privacy, one feels – rather than sees – why the unseen is equally as important as the physical elements of design. Proper human scale is an essential ingredient of design, providing comfort, versatility and value.  
Villas Designed to Complement the Character of Every Location
The design of villas and special features reflect the character of each location by intention. Core construction is by artisans and craftsmen from the Pacific Rim and Asia who apply generations of tradition and experience to produce the heart and principal structures of each residence in Bali, thus ensuring an essential degree of quality in execution.
Fashioned and fitted by hand from resilient tropical hardwoods such as merbau, teak, binkerai and ironwood, individual appointments and custom furnishings are combined with natural stone to reflect an understated warmth and elegance in every room. The result is sophisticated, yet informal comfort.  
Complete structures, components and furnishings are carefully labeled, packaged and shipped by ocean container to each destination for re-assembly and finishing onsite while being fitted onto prepared local foundations.
Guided by the inspiration of each location, floor plans of villas feature open living areas, large shaded terraces, expansive master suites with indoor and outdoor shower gardens, custom swimming pools and discretely private areas for the exclusive enjoyment of a property's natural surroundings.
Rooms may be opened to the tropical setting or partitioned when air-conditioning is required. The result is an unmistakable sense of being an integral part of the natural surroundings, whether inside or outside of a villa.
Comfort without confinement sets the theme for living in Villas by Cielo Santo Tropical Design.
Luxury residences of incomparable quality for open, spacious living. Perfect simplicity in locations where idyllic surroundings beg to be celebrated and respected.
Heaven on Earth… Under a Sacred Sky.